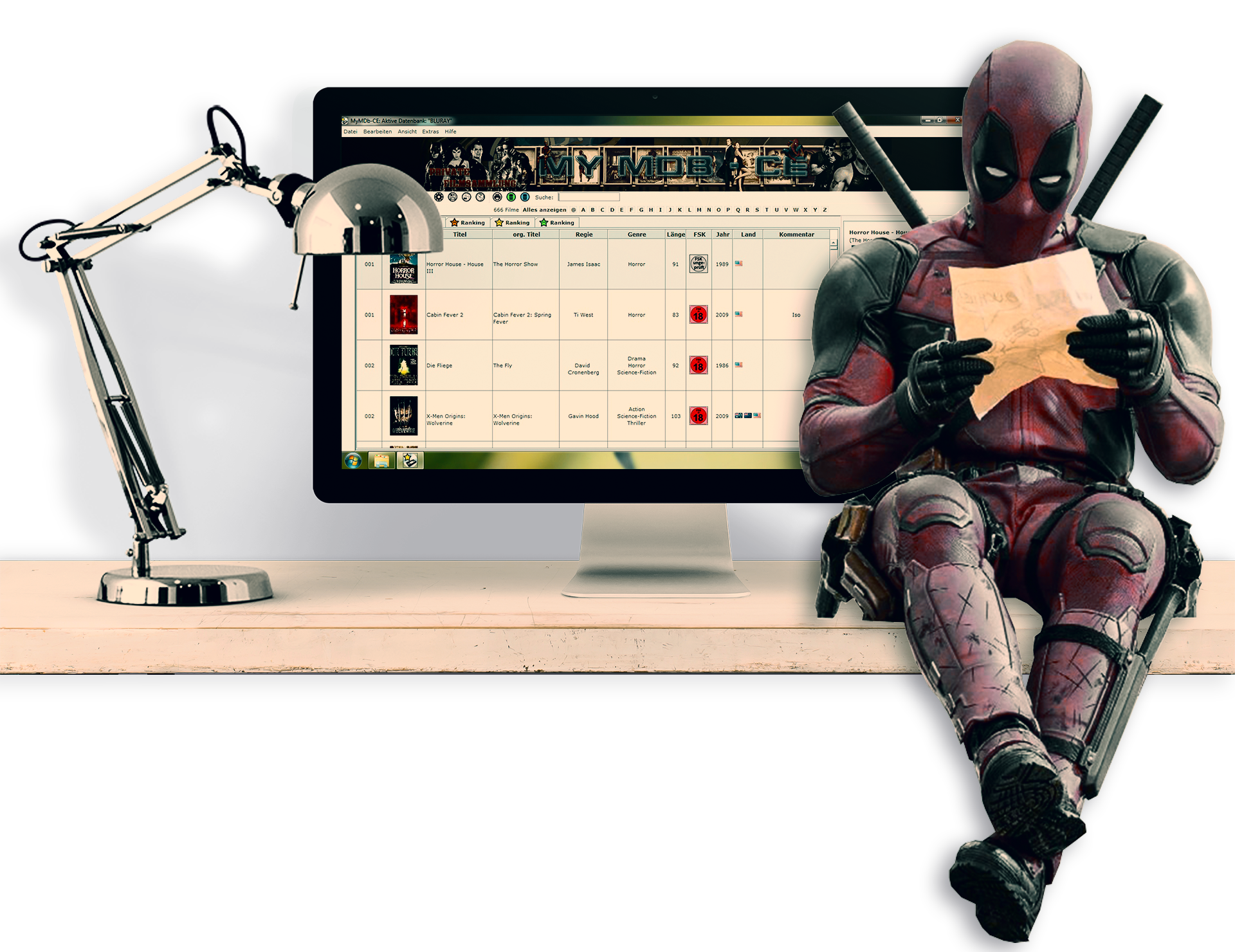 About MYMDB-CE
What is MyMDb-CE?

MyMDb-CE is free film management software that allows you to sort and manage your private film collection.
How did this project come about?
MyMDb-CE is free film management software that allows you to sort and manage your private film collection.
Originally "My Movie Database" was programmed and published by Markus Kamenew. In the early years of the new millennium, this small project quickly developed into one of the most popular film management programs in German-speaking countries.
With its simple, intuitive user interface, direct connection to the OFDb and many unique features, MyMDb quickly stood out from the competition and gradually reached more and more users who managed their countless films with it.
Thanks to an active and lively community, including the associated forum, MyMDb has been continuously improved and maintained over the years. The programming work was all done privately by Markus Kamenew in his free time and implemented in countless hours.
Unfortunately, further development from 2009 was no longer possible due to time constraints. So, with a heavy heart, Markus had to decide to end his project and stop further development of MyMDb with version 3.6.
Despite the discontinuation of the project, most users found it very difficult to part with MyMDb and have remained loyal to the program to this day, despite the lack of further development.
However, there was a change in the OFDb in mid-2018, so that from this point on it was no longer possible to add new films to the database using the OFDb search. Although (very innovative) workarounds were found that made it possible to continue working with the program, a search for alternatives had already begun, but none of them were convincing. This would actually have meant the final end of MyMDb ... and this is where the actual story of MyMDb-CE begins. MyMDb-CE is born!
After the OFDb change mentioned above, a few loyal users of MyMDb 3.6 quickly got together in the "community forum" because everyone had the problem of not being able to add new films. Contact was made with the former programmer Markus Kamenew, who selflessly made the source code of MyMDb 3.2.3 available to the community at the end of September 2018 (later versions of the program code were no longer available).
Now the community had the opportunity to get the program running again and adapt it to the OFDb changes. It was decided to resume the project and develop it together, and so the "MyMDb-Community Edition" was born.
Markus is also back on board in the background, providing resources and advice to support our goal of continuing his work. His idea should grow and flourish again.

Less than three months later, just in time for Christmas on December 24th, 2018, the community has managed to provide a fully tested first full version of MyMDb-CE for Windows and now for the first time also for Linux and Mac.

What's next?
After the project was brought back to life by MyMDb-CE, it is now possible for every user to actively contribute. Our goal is that MyMDb-CE is constantly being further developed by a large community. Many active helpers should prevent MyMDb-CE from being dependent on a single person again. So active programmers, designers or people with good ideas are very welcome.